Southwest Michigan Acreage
Work with a real estate broker who has significant experience buying and selling large parcels of undeveloped acreage in Southwest Michigan and Northwest Indiana. I've represented some of Southwest Michigan's most successful developers during their search and acquisition of land such as a 167 parcel in Buchanan Township with a sales price of nearly $4,000,000, another 167 acre parcel of scenic, rolling acreage in Northwest Indiana's LaPorte County with a price of $2,900,000, and recently a 3 acre parcel of Lake Michigan lakefront property with 160' of Riparian lake front valued at $3,600,000.
300 Acres Near New Buffalo, Michigan
Own The Entire Lake!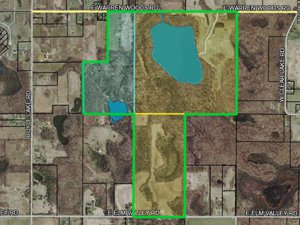 This property
is a developer's dream come true. Located 15 to 20 minutes from New Buffalo, MI and Warren Dunes State Park on Lake Michigan in Sawyer, MI you will find a beautiful spring fed private lake, completely surrounded by a 300 acre parcel of land where the beauty of wildlife, pastures of flowering plants, and hardwood forests abound.
From north to south the property measures a full mile in length, all the way from Warren Woods Rd on the north end, to Elm Valley Rd on the south. In total, the site features nearly 4600 linear feet of strategically beneficial road frontage; approximately 3300' on Warren Woods, and the remainder on Elm Valley Rd. about this property.