Including all listings in New Buffalo, Union Pier, Lakeside, Harbert, Three Oaks, and Sawyer.
Grand Beach - Forest Beach - Warwick Shores - South Cove - Dunewood - Riviera Beach - Sturgeon Beach - Timberland Estates - Gowdy Shores - Gordon Beach - Turner Shores - Shoreland Hills...
Featured Listing
Exclusive Union Pier Beach House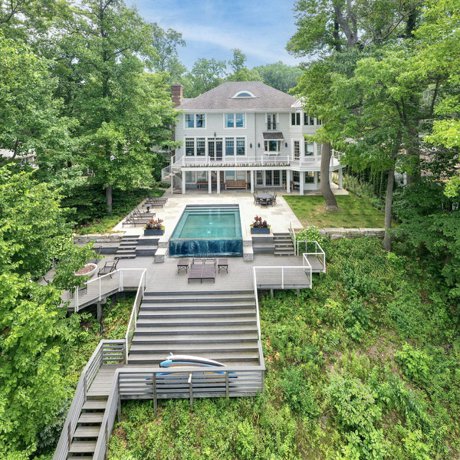 The most desirable home in Harbor Country. more...
Quick Search
Harbor Country Hotsheet
Just Listed
Latest Pending Sales
Recently Sold
Harbor Country by Property Type
Harbor Country Homes | map view
Harbor Country Condos | map view
Harbor Country Land | map view
Harbor Country Commercial Property | map
Harbor Country Acreage (5+ acres) | map
Harbor Country Lakefront Property
Harbor Country Lakefront Homes | map
Harbor Country Lakefront Condos | map
Harbor Country Lakefront Lots | map
Harbor Country by Price
Under $500,000 | map
$500,000 to $1,000,000 | map
$1,000,000 to $2,000,000 | map
Over $2,000,000 | map
Homes For Sale in Harbor Country Michigan
Here is a list of all homes for sale in Harbor Country Michigan. It's updated every 5 minutes. This includes
Michiana Shores
, the village of
Grand Beach
, the township and city of
New Buffalo
, located in New Buffalo Township.
Besides the fantastic beaches, excellent restaurants, and exclusive shops, the close proximity to Chicago makes Harbor Country one of the most sought after vacation home markets in the Midwest.
Harbor Country Expert since 1987
Harbor Country has much to offer the southwest Michigan vacation home buyer, but some areas are more desirable than others.

Do you know where the best beaches are located? Which homes have deeded beach access? Or, where lakefront property has littoral rights or which are designated high risk erosion?

Don't worry because I do! Buyers from all over the country have relied on my expertise since 1987. Call me before you buy property in Harbor Country; Paul Zubrys, 269-783-5253 or paul@lakerealtors.com
Harbor Country Homes with Acreage
Maybe the beach is not your #1 priority?
You wouldn't be alone
. There has been a trend towards larger homes on larger parcels of land in favor of being right on or near the beach. This trend, which began about five years ago is the result of Illinois residents leaving the Land of Lincoln for greener pastures, lower taxes, and the resort-like atmosphere of Southwest Michigan. The homes they are buying are not rustic beach cottages but larger, more substantial and newer homes that they can call home for at least six months out of the year.