Lake Michigan Lakefront Property
Including all Long Beach, IN Lakefront, Harbor Country Lakefront (New Buffalo, etc.), St. Joseph Lakefront, South Haven Lakefront, Saugatuck Lakefront Property
Featured Listing
Exclusive Union Pier Beach House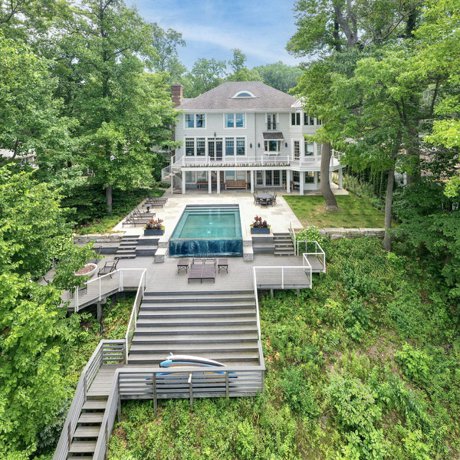 The most desirable home in Harbor Country. more...
Quick Search
Lake Michigan Hotsheet
Just Listed | map
Latest Pending Sales | map
Recently Sold | map
Lake Michigan Lakefront Property
Lake Michigan Lakefront Homes | map
Lake Michigan Lakefront Condos | map
Lake Michigan Lakefront Lots | map
Lake Michigan Commercial Property | map
Lake Michigan Lakefront Acreage | map
Lake Michigan by Price
Under $500,000 | map
$500,000 to $1,000,000 | map
$1,000,000 to $2,000,000 | map
Over $2,000,000 | map
Homes For Sale on Lake Michigan
A complete list of all
homes for sale on Lake Michigan
in Southwest Michigan. Unlike Zillow or Trulia, we promptly and automatically remove all sold and expired listings to guarantee you the most accurate list possible.
Our database is updated every 5 minutes, every day of the year, 24/7. No other website has a more complete and accurate list of properties. New listings are posted immediately. Expired and sold listings are removed right away.
Lake Michigan Lakefront Condos
The
Lake Michigan lakefront condominiums
on this list cover all the condo units within developments that have some water frontage along the coast of Lake Michigan. Not all these condos will have a lake view, and more importantly, not all condo developments on Lake Michigan have a useable beach. In other words, they may have great views of the lake, but the coast where they are located may suffer from beach erosion.
If it is important to locate a condo with a swimming friendly, easy to access, wide powder sand beach, please call me so we can talk about which developments will best fit your needs.
Lake Michigan Lakefront Land, Lots, and Acreage
Although we automatically list all
land for sale on Lake Michigan
, I often know about lakefront lots and parcels of acreage that can be purchased in a different configuration than the way it is listed in the MLS, or often times I know about lakefront property that can be purchased that is NOT listed in the MLS. For example, lakefront property that is For Sale by Owner, owned by a bank, or is part of an estate settlement. Please contact me to talk about your needs before you waste a lot of time driving around and/or calling seller's agents.
Lake Michigan Property Experts
I've built several lakefront homes on Lake Michigan and
I've helped many buyers
acquire Lake Michigan lakefront land. Besides all the obstacles the Michigan DEQ will place in front of you, its very important to understand the quality and the beach in any location you are considering building. Please do yourself and favor and hire the appropriate experts (engineers, surveyors, attorney's) to make sure your acquisition goes smoothly without wasting time and money. If you need help locating the best, please let me know as I've established excellent professional relationships over the many years I've been in this business.
Paul Zubrys, Independent Broker / REALTOR
Lake Michigan Real Estate since 1987
Long Beach, IN - New Buffalo - South Haven - St Joseph
(269)783-5253 or
paul@lakerealtors.com